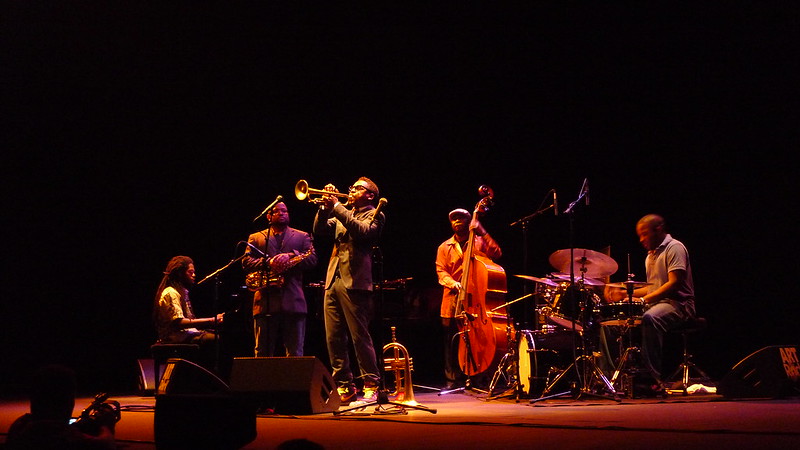 Roy Hargrove - Art Rock Festival 2010
last update: Oct. 2021
During the week:
Bandcamp Weekly: kind of a radioshow that highlihts every week the hottest release on the platform. Each episode showcase an artist (and usually a cool artwok). I really enjoy Bandcamp, their business model is fair, they work remotely and everything they do is neat. I should definitely buy more music on this platform (I tried to set a goal last year of 1 every month at least: I failed, but I'll try again this year!).

I've been an active Spotify user for the past 3 years. It all started with my Dad, thriving with his ipad to find, gather and organize music. Then I found their family plan (yes we still live together of course ;) ) and decided to offer it to him, my Sister and M. I'm still confused about Spotify: it's convenient, but their business model is not good and it really makes you consume music. We recently agreed with M that our music memory was bad since we use it. I kind of miss the time where I meticulously organised music in folders of my computer, with manual hard-drive backup. (Miss you Musical Schizophrenia)

Pop N' Co (french content) is a splendid short radioshow that highlights a track with the delicate voice of Rebecca Manzoni.
During the week-end:
Mailtape: I won't be objective here as it's the labor of love of a very good friend, but honestly the project is beautiful. Each sunday morning, you'll receive a music selection curated with a guest. It widens the horizon.

Tiny Desk Concert: it's cool to discover or see groups you already like doing a small, non-conventional concert. This one with BBNG is definitely one of favorite so far.
Misc:
@dimitribosch published this nice list that I've been digging!
I try to enrich my vinyl collection with the albums that played a big role in my music journey (discog wantlist)
I started playing Ukulele mid-October 2021, really enjoying it (though never played string instrument before) partly thanks to Karim Ukulele Therapy and its awesome tutorials!

I'll update the list along the way!